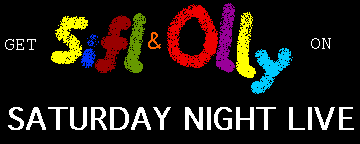 ---
For those of you who don't know these fellas, they're Sifl and Olly, hosts of the incredibly funny Sifl and Olly Show. With all their pals, including their daffy sidekick Chester and the king of bad infomericals Precious Roy, they made MTV viewers laugh every night after Loveline or Real World or whatever crappy show preceded them. At least, they used to. MTV took them off the air to show more episodes of Global Groove, TRL and Say What? Karaoke. Now, they have but disappeared from the pop culture spotlight.
But you can help them! How? By getting Saturday Night Live to let Sifl and Olly host an episode!
Here's how it works: Logically, if you're hosting SNL, you're some big TV or movie star or musician, usually trying to push your latest project. If Sifl and Olly were to get onto SNL, the execs at MTV would be like "Holy crap! What are those guys doing on SNL?" MTV would look like asses if they didn't take them back. But even if they were too braindead from listening to "Hit Me Baby One More Time" to do that, Sifl and Olly would get loads of new offers because of their expanded visibility. Besides, they already have a lot of experience in late-night skit comedy.
So fill out the form below and get your voice out about Sifl and Olly!
---
---
Click here to view the petition!
---
For more Sifl & Olly info, check out these sites.
Stolen Holiday - The Chester Fan Page
Sifl and Olly Puppet Theatre
Sifl-n-Olly.com
---

This Sifl & Olly site is owned by
Matt Wirth.
[Previous | Random Site | List Sites | Next]
Wanna join? ROCK!
---
The webmaster, Matt Wirth, has a web page at http://spunkmonkey.freeservers.com.